Transform your skin with the #1 physician-dispensed skin care system that helps correct and improve visible signs of skin aging available!
Please CLICK HERE to visit the Obagi Products section of our website.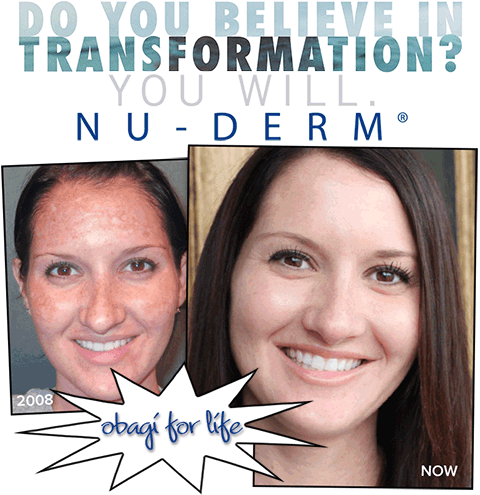 Pictured–>
Name: Mandy Rose
Age: 32
Primary Skin Concern: melasma, sun spots, scars
Current Skin Care Regimen: Obagi Nu-Derm® System
Skin Care Advice:
"Be consistent and committed when you use the Obagi system. It takes time to see results, but don't get frustrated. You WILL see results!"
Obagi:
"Tell us about your Obagi experience. How were you introduced and how has your skin transformed?"
Mandy Rose:
"I was first introduced to Obagi products by my dermatologist after I developed terrible melasma with my pregnancy. I wanted the brown spots to disappear and nothing I was doing worked. As a woman, you know how important it is that your skin is clear and radiant. The Obagi Nu-Derm System is the ONLY thing I found that would completely take away the melasma. Although I started the Obagi System because of my melasma, I was pleased to see that my sun spots and scars from where I had picked when I was younger had diminished as well.
I was so self-conscious of my skin before and never wanted to leave my house without makeup. After using Obagi, I have a new found confidence about my skin that I have never had before. It has been an exciting transformation to see how the overall balance and color of my skin tone has evened out! Thank you Obagi!"
Obagi:
"Did you get discouraged throughout the process and how did you overcome it?"
Mandy Rose:
"I do remember when I first started using Obagi and I wasn't seeing a change immediately…I got discouraged. But I just kept using it every morning and every night and eventually my skin went through a complete transformation! Looking back at my before pictures…it truly is amazing to see how much Obagi has helped my skin!"
Please CLICK to visit Mandy Rose's Blog.
http://houseofroseblog.com/obagi-skincare-before-after-pho…/