Skin Medica TNS Line Refine
Offered by Aloha Dermatology and Laser Center Maui
This luxurious eye treatment cream formulated with the patented growth factor blend TNS®, peptides, high concentrations of antioxidant vitamins C and E and hyaluronic acid helps to increase firmness and elasticity, improve the appearance of fine lines and wrinkles and minimize dark circles.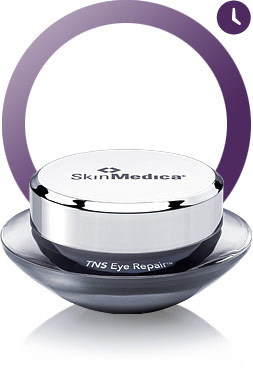 Growth factors and peptides work synergistically to improve fine lines and wrinkles
Reduces the appearance of dark circles
Hydrates the fragile skin around the eyes
Increases firmness and elasticity
Q: What skin type is this product best for?
A: TNS Eye Repair™ is appropriate for all skin types.
Q: When should I use this product in my daily skin care routine?
A: TNS Eye Repair should be applied after applying treatment products. For dry skin, this product can also be used in the morning.
Q: How to apply?
A: Apply a thin layer with your finger tip to the skin.
Q: Where to apply?
A: Apply to the skin underneath the eyes and around the outside corners of the eye area. Avoid the eyelids.
Q: How long to use?
A: TNS Eye Repair should be a part of your daily skin care regimen.
Q: What is special about this product?
A: This product contains TNS® as well as high levels of vitamins C and E to hydrate and improve the overall condition of the delicate skin under your eyes.
Q: What would be the recommended regimen if using all three of the SkinMedica® eye products (TNS Eye Repair™, TNS Illuminating Eye Cream®, and Uplifting Eye Serum)?
A: When using the eye products in conjunction with one another we recommend you first apply the TNS Illuminating Eye Cream and then apply Uplifting Eye Serum. In the evening we recommend using Uplifting Eye Serum followed by TNS Eye Repair.
Q: What is the benefit of using all three SkinMedica products formulated for the eye area?
A: In combination, the three eye products address all of the common issues with the delicate skin around the eye area. TNS Night Eye Repair is formulated to reduce fine lines and wrinkles while hydrating the skin around the eyes. The TNS Illuminating Eye Cream is formulated to help reduce fine lines, wrinkles and dark circles. The Uplifting Eye Serum is formulated to soothe the skin around the eye area, helping to reduce puffiness.
Q: Are the eye products safe to use on the eyelids?
A: We do not test our products on the eyelids. Therefore, we do not recommend you use any of our eye products on your eyelids.
Q: What is TNS?
A: A mixture of growth factors, cytokines, antioxidants and matrix proteins.
Q: What are growth factors?
A: Growth factors are proteins that affect the growth and the activity of cells. Growth factors are inherent in our bodies and play a crucial role in maintaining healthy skin.