Doctor Micki Ly M.D. Summarizes the Services Offered by Her Practice
Dr. Micki Ly M.D. - Maui Dermatologist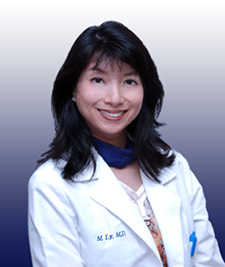 PROFESSIONAL EXPERIENCE:
Aloha Dermatology & Laser Center
Aloha Dermatology and Laser Center (name change September 2006) to reflect Dr Ly's move to her new location providing room for a fuller array of cosmetic services and better serve general dermatology clients.
Island Dermatology
Maui, Hawaii - Private practice General Adult/Pediatric and Cosmetic Dermatology. Leader in the non-surgical Vogue Lift® for facial rejuvenation. Gold Botox, Diamond Restylane and Radiesse provider.(September 2005)
Kaiser Permanente
Maui, Hawaii - Regular and Cosmetic Dermatology. Served 47,000+ members in the Kaiser network. Initiated and successfully managed a cosmetic dermatology program for Kaiser-Wailuku with years of satisfied clients (July 2002-September 2005)
Mount Carmel Medical Medical Center
Columbus, Ohio - Dermatology Consultant for Emergency room, Urgent Care and Patient Admissions (1999-2002)
EDUCATION:
University:
University of Southern California, B.S., Los Angeles, California, 1989.
California State University, M.S., Occupational and Environmental Health, Northridge, California (1992).
Medical School:
Ohio State University, Columbus, Ohio, 1998. Internship: Mount Carmel Medical Center, Columbus, Ohio (1998-1999)
Residency:
Ohio State University Division of Dermatology, Columbus, Ohio (1999-2002)
Honors:
Magna Cum Laude.
CERTIFICATION:
Board Certified in Dermatology.
LICENSED:
DERMATOLOGY Hawaii, California.
PUBLISHED RESEARCH:
Molluscum contagiosum involving an epidermoid cyst with xanthogranuloma-like reaction in an HIV-infected patient.
MULTILINGUAL:
German, Spanish, Vietnamese.
PROFESSIONAL ACTIVITIES:
Member - American Academy of Dermatology; Radiesse® Medical Education Faculty; Botox® Cosmetic Physicians' Network; Hawaii Dermatological Society; American Society of Cosmetic Dermatology & Aesthetic Surgery; American Society of Dermatologic Surgery; American College of Phlebology; Medical Expert Panel-Dermatology at www.getanswers.com; Central Ohio Dermatology; American Academy of Dermatological Surgery.
Fellow Member - Hawaii Dermatological Society; Pacific Dermatologic Association; International Meso-Lipotherapy Society.
SPECIAL INTERESTS:
Aesthetic enhancement, Cosmetic dermatology, Performing Medical Art enhancements.
PERSONAL:
Military - US Airforce 2nd Lieutenant
Interests - Enjoys traveling, ballroom dancing, scuba diving, VFR piloting, oil painting, sculpting, stamp collecting, reading, weight-Lifting, roller-blading, skiing, bicycling, running, hang-gliding, kayaking, boogie-boarding and being a mother.