Restylane Refyne and Restylane Defyne
Newly FDA-approved fillers, Restylane Refyne and Restylane Defyne, provide treatment for "laugh lines" and other facial wrinkles. We provide both here at Aloha-Dermatology in Kahului, Maui.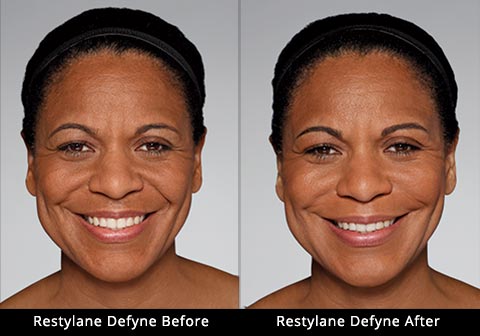 Injectable fillers have been a major innovation in cosmetic care. As opposed to treatments that come in a jar or a tube, dermal fillers provide non-surgical anti-aging techniques that really work. After a single treatment, with no downtime, fillers can give the face a smoother, fresher, more youthful appearance.
Both new Restylane fillers – Defyne and Refyne – are hyaluronic acid products using XpresHAn technology that allows them to flex within the skin along with your facial expressions for a soft, natural result.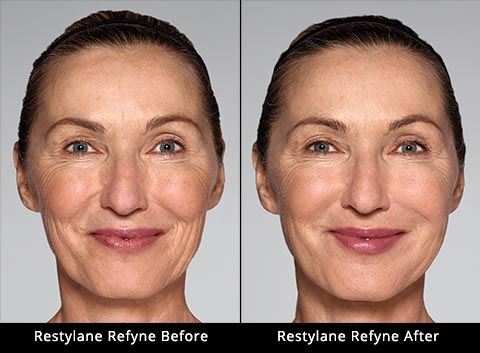 Restylane Refyne is for the treatment of moderate to severe wrinkles and folds in the face, such as nasolabial folds – the lines that run vertically from the nostrils to the corners of the mouth.
Restylane Defyne is designed to treat moderate to severe deep facial folds and wrinkles, including nasolabial folds. Which product is appropriate for treatment will depend on the depth of the lines and wrinkles to be treated. Depending on the patient, a combination of both fillers may be appropriate for use in just one treatment session.
---
Veins on Maui
Erase Varicose Veins Without Surgery
Varicose Veins Breakthrough Procedure – now available with Dr. Ly exclusively on Maui
Do you have unsightly leg veins that prevent you from wearing a skirt? Too hot to wear pants, but embarrassed to wear shorts? Do you have achy, throbbing, swollen and cramping legs? Do you have leg ulcers? You may have undiagnosed varicose vein. An estimated 25 million people in the United States suffer from varicose veins. Today, thanks to modern technology, there is an alternative treatment option to traditional surgical vein stripping.
CLICK HERE to read the latest press release.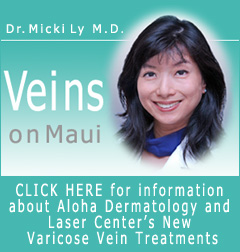 Varicose veins and heavy, painful legs can now be treated IN THE OFFICE!
COVERED BY MOST INSURANCE PLANS
Back to normal activity usually by the next day
No vein stripping
If you experience discomfort, swelling and varicose veins in your legs, you may be suffering from superficial venous reflux disease. Approximately 25 million people in the United States suffer from venous reflux. Traditionally patients diagnosed with venous reflux would undergo varicose vein stripping surgery. Now, patients on Maui can be treated by Dr. Micki Ly with the Closure® procedure — a minimally invasive alternative to painful vein stripping surgery.
As seen on Good Morning America
Click Here to View Video
Now available exclusively on Maui from Doctor Ly!
---
LATISSE™ (bimatoprost ophthalmic solution) 0.03% is the first and only prescription treatment approved by the FDA for inadequate or insufficient eyelashes, growing them longer, fuller and darker. Besides being FDA approved, LATISSE™ is easy to use and effective. It's a once-a-day treatment you apply topically to the base of your upper eyelashes.
"LATISSE™ users can expect to experience longer, fuller, and darker eyelashes in as little as eight weeks, with full results in 16 weeks."
LATISSE™ makes lash growth possible because of its active ingredient: bimatoprost. Although the precise mechanism of action is not known, research suggests that the growth of eyelashes occurs by increasing the percent of hairs in, and the duration of, the anagen (or growth) phase. Lashes can grow longer, thicker and darker because bimatoprost can also prolong this growth phase.
Clinically proven results you can see over time.
CLICK HERE to read the complete LATISSE™ press release and view before and after pictures.
---
HELLO RELOXIN®
STEP ASIDE BOTOX®
RELOXIN® SOON AVAILABLE AT Dr Ly's Aloha Dermatology and Laser Center
Soon to be the twin to the Botox® Cosmetic Reloxin® will be available soon as the wrinkle relaxer of choice providing superior results at a projected price savings as compared to Botox ®
Enthusiasm is building for this Reloxin ®product. Its availability is projected to be approved and available in mid 2009. Dr Ly and staff are excited to be one of the first to offer this product in Maui Hawaii. Reloxin® is know as Dysport® in nine countries for cosmetic uses. Reloxin®/ Dysport® is a form of botulinum toxin Type A.
Reloxin has similar properties and lasts about as long as Botox® Cosmetic, which can be anywhere from three to six months and Reloxin® may take effect faster and last up to six to nine months.
In addition to adding Reloxin® to the already full array of cosmetic services Dr Ly is also electing to accept the opportunity as the Hawaii and California area Physician trainer for Reloxin®. With superior training and a superior product (Reloxin®), Dr Ly hopes to provide the same superior results every client receives when selecting Dr Ly for their artistic aesthetic results they expect and deserve.
---
NO CLUMSY STRIPS NO AWKWARD TRAYS NO GIMMICKY LIGHTS NO PAIN The most important elements in tooth whitening are: A strong dose of hydrogen peroxide, no sensitivity, and patient compliance. Liquid Smile's unique formulation, applicator, and common sense approach to whitening, will give you the best results — painlessly! Just one application per night, for two weeks, and you will experience dramatic whitening. Click here for more info!
---
Liposuction involves the removal of unwanted bulges created by excess localized fat deposits. A relatively new procedure, liposuction has become one of the most commonly performed cosmetic procedures. When performed by an experienced and skilled physician, it is safe and the results can be quite dramatic. Body Areas That Can Be Treated by Liposuction
Neck and Jowls
Arms
Abdomen
Buttocks
Hips
Inner and Outer Thighs (saddle bags or riding breeches on women)
Knees
Legs
Flanks (love handles on men)
Enlarged Male Breasts (gynecomastia)
---
---
EXCLUSIVE MEDICAL TECHNOLOGY SYSTEMS & SOLUTIONS THAT PROVIDE SUPERIOR RESULTS THAT ARE BOTH FASTER AND BETTER. Nanotechnology is considered to be the transformational technology of this century. Dr, Ly now includes the exclusive Nanotech AdvantageTM with her cosmetic solutions for superior results. Precise and effective therapy can be individually tailored to each patient's profile for improved performance. Nanotech AdvantageTM is widely considered to be the Gold Standard when incorporated with medical applications, cosmetics and services to optimize results. The Nanotech AdvantageTM process is government registered. Dr Ly, a Board certified Dermatologist specializing in cosmetic dermatology offers a broad array of services that include this cutting edge technology and raise the standard of results for clients.
---
The Quick Vogue Lift TM is designed to erase up to ten years in one day for clients between the ages of 40 and 65+ desiring significant age-diminishing results, with minimal downtime and lasting results. Another major advantage is that it is a very affordable outpatient procedure taking less than three hours, depending on the client's age and improvement desired. Click here for more info!
---
Upper Eyelid surgery (technically called blepharoplasty) is a procedure to remove fat–usually along with excess skin and muscle from the upper eyelid. Eyelid surgery can correct drooping upper lids – a feature that make you look older and more tired than you feel, and may even interfere with your vision. However, it won't remove crow's feet or other wrinkles or lift sagging eyebrows. While it can add an upper eyelid crease to Asian eyes, it will not remove indications of race or ethnicity. Click here for more info!
---
Juvéderm is natural, biodegradable and currently the only approved hyaluronic acid dermal filler that has demonstrated its safety and effectiveness in patients of all skin types and colors. It also is the only hyaluronic acid dermal filler developed using a proprietary, technologically advanced manufacturing process that results in a malleable smooth gel that flows easily into the skin, creating a smooth, natural look and feel. All other currently approved hyaluronic acid dermal fillers utilize a gel particle suspension formulation. Click here for more info!